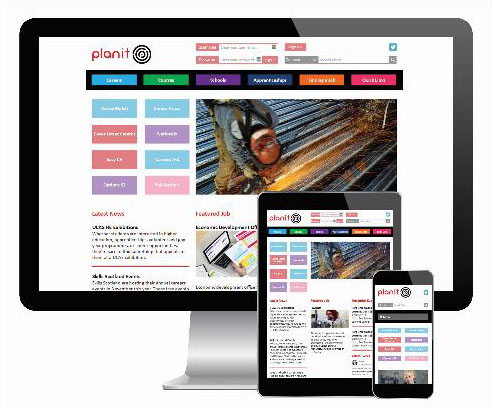 Used by 20 local authorities across Scotland, Planit provides invaluable career and learning information for young people aged 13 to 19. Itís a useful tool for staff and parents to support young people to make important decisions about their future. Young people can create CVs and cover letters, and explore careers and courses that match their interests.
The popularity of Planit remains extremely healthy with just over 531,000 visitors to the site during the last school session. This is an increase of 5.18% since last school session.
We have completed a number of developments in the past year.
Completed the annual update of job profile information (over 680 job profiles are available).
Completed the annual update of detailed course information for Further and Higher Education (approximately 12,300 courses).
We have continued to add video content to job profiles. The number of videos available has increased by 27% taking the total to 138. To enable us to continue to increase the video presence in 2018/2019, we have entered into an agreement with icould.
Incorporated EMSI Labour Market Information into job profiles, providing more accurate information.
Completed the addition of Foundation Apprenticeships content into the school section of Planit.
National 5 content has been updated to reflect new structure.
Study links have been added to National 5ís, Highers and Advanced Highers.
We continue to build up our social media profile on Twitter, promoting Planit. We have increased our followers by 45%. This is still proving to be a great way to keep staff and pupils informed about key dates, interesting news and developments linked to post school learning and career choice.
SQA subject posters are available for users to download from Planit. 3,226 downloads were made during the period March 2017 to April 2018. These can be downloaded for printing from here on Planit.
Updated the Exploring Senior Phase Options pdf. This will be useful at the start of the academic year, in particular to your S5/S6 students. Please email nwelch@ceg.org.uk with any comments or feedback you may have.
Future Developments
Apprenticeship section within Planit is being updated to give details on all Foundation, Modern and Graduate Apprenticeships.
New subject choice tool is being developed. This will include, What is STEM?, Why Study STEM subjects?, What jobs can I go into?, What skills do I need?.
Work has commenced on a new strengths tool which should be available by the end of 2018.
Survey Results
We conducted a user survey in March 2018, receiving 173 responses. 60% of these were from school pupils, 25% from teachers. Results were excellent to view a summary of results go to Planit Content Survey Results