From a directory of full time college and university courses in Scotland, to advice for young people in choosing subjects and finding a job, our annual publication are an invaluable resource for anyone involved in careers and learning. They are widely used by schools, colleges, libraries and other centres of careers and educational information across Scotland. In addition to these publications, we also produce a collection of free career posters for SQA subjects. These can be downloaded in A4 size here.
Publications order form
Careers in Scotland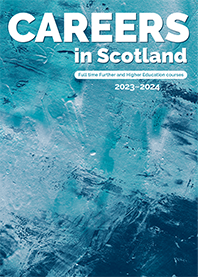 This comprehensive directory of full time courses at Scottish colleges and universities covers all levels, from Access, National Certificate (NC) and Scottish Vocational Qualifications (SVQ) to Higher National Diplomas (HND), degrees and taught postgraduate programmes, and includes detailed entry requirements. These are grouped into 25 broad career areas.
You'll also find useful articles on career area trends, advice on going to college or university and finance for studying.
September 2023
ISBN: 978 1 902909 94 3
A4 Paperback Price £52.00
Pack of 2 Careers in Scotland £94.00
Pack of 3 Careers in Scotland £137.00
Contact us today to find out more
Publications order form