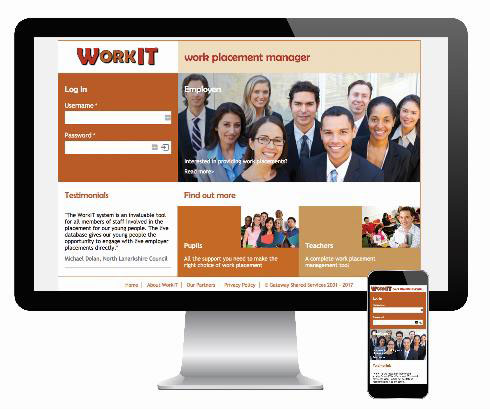 WorkIT is a web application used to manage your work placement program. It provides pupils, school co-ordinators, local authority administrators and health and safety officers with a single point of reference to plan, prepare and manage work placements and activities to support Developing the Young Workforce. It ensures that everyone is kept up to date and pupils and your schools can track and manage their involvement with the program.
We achieved 100% retention of WorkIT customers with all 22 Local Authority customers renewing licence agreements. In addition we managed to secure a contract with an Independent school to provide the Work Placement Administration Service for their school.
User Groups were held in November 2017. Attendance rates were excellent with representation from both partner authorities and customers. The aim of this session was to identify future development opportunities, to help influence our Development Plan for 2018-2021. We will continue to hold these annually.
During the past year we have completed a number of developments:
We have further developed the online SQA Work Placement Unit recording tool (Level 3, 4 and 5). updated pupil user notes for level 3 and 4.
Online Quick Tip Training material has been developed for School Co-ordinators. Members of Gateway Team have been involved in carrying out this training with some authorities. This has been well received and evaluations were really positive.
Future Developments:
Only 33% of our customers were aware of recent developments and enhancements to WorkIT. This is something we aim to communicate more efficiently in Session 2018-2019.
Looking at ways to improve variety of placements offered.
Survey Results:
We conducted a user survey to school coordinators across the 10 Local Authorities using the service in March 2018. 48 responses across all Local Authorities were received. Results were positive and highlights include:
83% of respondents rated support from team as Very Good.
96% of respondents rated support from team as Good or Very Good.
90% of respondents encourage pupil to make contact with Employers prior to placement.
75% of respondents make use of User Guides and support materials available on WorkIT.
69% of respondents were able to adhere to processing timescales for self- found and flexible placements.